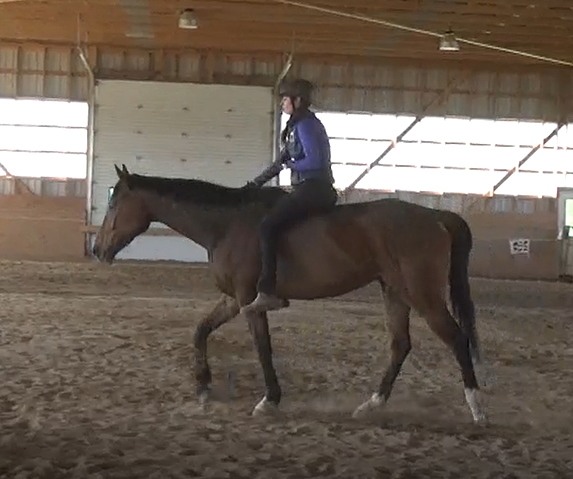 OTTB Liberty Re-Start

One off the track Thoroughbred
No tools
No equipment
How strong can the horse human bond be?
One Goal
Train to ride for the Thoroughbred Makeover Competition (goal is for Wally to compete at the 2018 Makeover).
Featuring Point Load (Wally):
Born March 13, 2013
4 Starts
$2037 earnings
Last Race December 2, 2016
All his starts were at Woodbine racetrack in Ontario
Follow the Journey:
20 sessions, all using no tools (other than treats for positive reinforcment - but no halter, no rope, no round pen, no stick/whip)
Insights into the training - Lindsey explains what is happening
The goal is to train Wally to ride completely at liberty (no round pen, no halter, no rope, no whip, no stick, etc). Once trained at liberty/bridleless, then session 19 shows Wally with his ride ride using reins and saddle, and session 20 his first ride by someone else.
Support Wally and Lindsey
Lifetime access to the videos
Watch the magic as Lindsey progresses to ride Wally at walk, stop, backwards, and turning all within just 9 sessions using no equipment, no round pen, no chasing, no stick, no halter, no rope, etc. Truly incredible!
Note that the video promotion refers to Comandante. He was intended for the libtery restart but due to an injury he was not able to participate and Point Load (Wally) is taking part instead.
Wally is planning to attend the 2018 Thoroughbred Makeover
Sessions 2 and 3 are written diary entries as the videos were corrupted (don't buy SD cards on Ebay), but all other 18 sessions have video and are unedited so you can see the progress.
Your Instructor
Lindsey Partridge is dedicated to life long learning and helping others connect with their horses.
She is an accomplished student, trainer, and competitor. She has been called 'Canada's Horse Whisperer' by the Toronto Star and 'The Queen of Thoroughbreds' by The Rider. She is a Horse Human Relationship Expert.
Highlights of her resume include:
2017 Lindsey's horses The Bowie Van, Bowdrie, and Here Comes Adri won 1st, 2nd, and 3rd at the Thoroughbred Makeover in Trail with the help of 15 yr old student Franny Galvin-Hynes. She was also 2nd in Freestyle and 6th in Field Hunter.
2017 Lindsey was the Horse Wrangler for the feature film Autumn Stables and her horses Dreamer, Angel, and Soar (Kahleesi) star in the film.
2016 Lindsey's horse, Dreamer, stars in the movie Unbridled. As well her he was filmed for 'The Farmer and The Belle'.
2016 Thoroughbred Makeover Champion with Trivia Time in both Trail and Freestyle. Lindsey became the first trainer ever to win two disciplines. Lindsey was also the first trainer to have both her horses make finals in both their disciplines because her 2nd horse, Pentland, was 3rd in Trail and Field Hunter.
2016 Can Am Equine Expo Extreme Cowboy Champion with Dreamer
2015 Thoroughbred Makeover winner with her horse 'Soar'. Lindsey won 1st in Trail, 3rd in Freestyle and the overall title of Americas Most Wanted Thoroughbred. She was 2nd place with her other horse 'Lion of Wallstreet' in the Trail division.
Platinum level Natural Horsemanship Association Coach and Trainer.
Level 2 Centered Riding Coach.