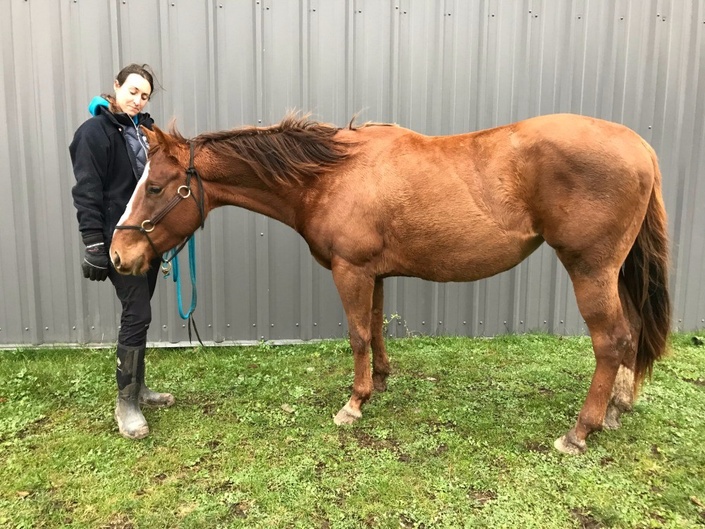 Starting the Dominant Horse from Scratch - Peanut
Unstarted, aggressive, 4yr old QH Chestnut Mare from sassy to sweet using no whips, spurs, or bits
Follow the journey of Peanut, a 4yr old chestnut mare that was given to Lindsey because she was too aggressive and would kick out at people.
We show you every session of her training, using no whips, no spurs, no bit - just a halter and rope to then get her started under saddle. Takes you through all of the calm connection exercises and all of the A, B, C's in a logical step by step program designed to develop trust and understanding with the horse.
See Harmony Horsemanship in action with Lindsey Partridge from start to finish. In just 6 sessions Peanut shows you all the calm connection exercises and ABCs on the ground, as well riding the ABCs, riding obstacles, and cantering.
Using the Fusion Halter (no bit or bridle) and a lead rope (no whip, spurs or crops). You get to see just how powerful positive reinforcement can be and how quickly Peanut turns into a power learner.
Lindsey says "Sometimes I work with bits, a whip or other tool, but in this series I wanted to use nothing other than a halter and rope just so I can show people how much we can accomplish with just ourselves. I find when we have whips, spurs, or bits we tend to forget how intimidating and overwhelming we can be, or we forget to make our body language clear because we're relying too much on the tool. When we take away the extra tools it forces us to become more aware and consistent."
Full sessions, unedited so you can see it all, with explanations and commentary so you can learn.
Session 1- Calm Connection: watch as Peanut goes from a screaming insecure horse to calm and connected
Session 2 - Create a Yes Horse: Peanut learns her A, B, C's from the ground and discovers learning is fun
Session 3- Saddling: introducing the saddle for the first time and learning words for transitions
Session 4 - Riding: Lindsey rides Peanut for the first time at the walk, back up, turn, and disengaging hind quarters
Your Instructor
Lindsey Partridge is dedicated to life long learning and helping others connect with their horses.
She is an accomplished student, trainer, and competitor. She has been called 'Canada's Horse Whisperer' by the Toronto Star and 'The Queen of Thoroughbreds' by The Rider. She is a Horse Human Relationship Expert.
Highlights of her resume include:
2017 Lindsey's horses The Bowie Van, Bowdrie, and Here Comes Adri won 1st, 2nd, and 3rd at the Thoroughbred Makeover in Trail with the help of 15 yr old student Franny Galvin-Hynes. She was also 2nd in Freestyle and 6th in Field Hunter.
2017 Lindsey was the Horse Wrangler for the feature film Autumn Stables and her horses Dreamer, Angel, and Soar (Kahleesi) star in the film.
2016 Lindsey's horse, Dreamer, stars in the movie Unbridled. As well her he was filmed for 'The Farmer and The Belle'.
2016 Thoroughbred Makeover Champion with Trivia Time in both Trail and Freestyle. Lindsey became the first trainer ever to win two disciplines. Lindsey was also the first trainer to have both her horses make finals in both their disciplines because her 2nd horse, Pentland, was 3rd in Trail and Field Hunter.
2016 Can Am Equine Expo Extreme Cowboy Champion with Dreamer
2015 Thoroughbred Makeover winner with her horse 'Soar'. Lindsey won 1st in Trail, 3rd in Freestyle and the overall title of Americas Most Wanted Thoroughbred. She was 2nd place with her other horse 'Lion of Wallstreet' in the Trail division.
Platinum level Natural Horsemanship Association Coach and Trainer.
Level 2 Centered Riding Coach.