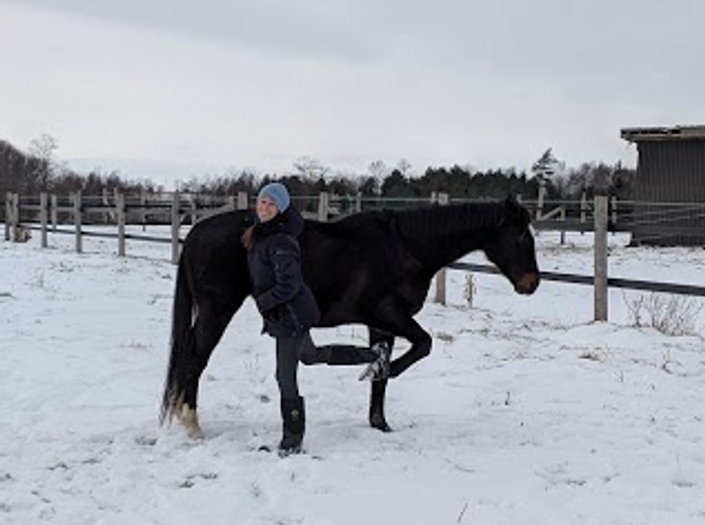 Trick Training - Let's have some fun!
How to train your horse to do some fun tricks
Have you ever wanted to train your horse to kiss, smile, fetch, or bow?
That is exactly what we're doing in this course!
Teaching our horse some tricks has many benefits:
challenges your horse to learn something new
breaks up the routine to make it more interesting for your horse
gives you something to do if you aren't able to ride or work your horse (weather, footing, lameness, etc)
helps your horse become a puzzle solver and creative thinker
can be fun for both you and your horse
cross training to keep their brain engaged
Dive in to some fun learning with the 'how to' of some favourite tricks:
smile
kiss
bow
Spanish walk
fetch
lay down
hop/rear
come and stay
"I show you some tricks with my veteran horses, but I also show you how I teach a new horse the tricks for the first time." Lindsey
Your Instructor
Lindsey Partridge is dedicated to life long learning and helping others connect with their horses.
She is an accomplished student, trainer, and competitor. She has been called 'Canada's Horse Whisperer' by the Toronto Star and 'The Queen of Thoroughbreds' by The Rider. She is a Horse Human Relationship Expert.
Highlights of her resume include:
2017 Lindsey's horses The Bowie Van, Bowdrie, and Here Comes Adri won 1st, 2nd, and 3rd at the Thoroughbred Makeover in Trail with the help of 15 yr old student Franny Galvin-Hynes. She was also 2nd in Freestyle and 6th in Field Hunter.
2017 Lindsey was the Horse Wrangler for the feature film Autumn Stables and her horses Dreamer, Angel, and Soar (Kahleesi) star in the film.
2016 Lindsey's horse, Dreamer, stars in the movie Unbridled. As well her he was filmed for 'The Farmer and The Belle'.
2016 Thoroughbred Makeover Champion with Trivia Time in both Trail and Freestyle. Lindsey became the first trainer ever to win two disciplines. Lindsey was also the first trainer to have both her horses make finals in both their disciplines because her 2nd horse, Pentland, was 3rd in Trail and Field Hunter.
2016 Can Am Equine Expo Extreme Cowboy Champion with Dreamer
2015 Thoroughbred Makeover winner with her horse 'Soar'. Lindsey won 1st in Trail, 3rd in Freestyle and the overall title of Americas Most Wanted Thoroughbred. She was 2nd place with her other horse 'Lion of Wallstreet' in the Trail division.
Platinum level Natural Horsemanship Association Coach and Trainer.
Level 2 Centered Riding Coach.
Course Curriculum
Getting Started
Available in days
days after you enroll
Back up by the tail
Available in days
days after you enroll